WELCOME TO Pepper's Landing
A FRIENDLY GATHERING SPOT NAMED AFTER MY GRANDFATHER, PEPPER MARTIN. HE LOVED SOCIALIZING WITH FRIENDS AND FAMILY OVER SMOKED FISH AND HIS OWN BREW. WE SERVE A COLLECTION OF MAINE FAVORITES! FLAVORSOME, GENEROUSLY PORTIONED FOOD. NATIVELY SOURCED, AND ALWAYS FRESH. SEAFOOD IS OUR SPECIALTY. IT WAS PEPPER'S FAVORITE TOO!
FOR MORE ON PEPPER'S STORY, CLICK HERE.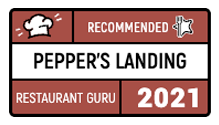 Satisfy Your Appetite for Seafood
VISIT OUR RESTAURANT IN BRUNSWICK, ME, OLD TOWN, ME OR ROCHESTER, NH
Nothing beats the taste of fresh seafood. Treat your family to a delicious seafood dinner by visiting Pepper's Landing. Named in honor of local legend Pepper Martin, our seafood restaurant takes pride in serving fresh and locally sourced seafood you won't be able to get enough of.
Whether you're in the mood for fried clams or something from our gluten-free menu, you're sure to walk away from our restaurant full and satisfied. Stop by our restaurant today. We have three locations in Rochester, NH and Old Town and Brunswick, ME.
ONLINE ORDERING AND TAKEOUT
HOURS VARY BY LOCATION - CHECK HERE FOR HOURS!
PEPPER'S LANDING IS NOW OFFERING INDOOR, OUTDOOR, & TAKEOUT AT ALL LOCATIONS.
Enjoy a cold lager with your meal
Wouldn't you love to enjoy a hardy lager with your fresh seafood? Come by our restaurant to try Pepper's Champ Lager. Our crisp lager has been quenching the thirst of sailors since the 1930s. Brewed to replicate Pepper's secret recipe, Pepper's Champ Lager is sure to capture your heart at your first sip.
Pay us a visit to give it a try for yourself.
WELCOME TO A PLACE WHERE "FRESH" ISN'T JUST A BUZZ WORD.
A LOBSTER ROLL VARIETY FOR ALL YOUR CRAVINGS.
WE HAVE GREAT FOOD OPTIONS FOR KIDS... BUT A LITTLE MORE FUN.
WE BRING THE FRESHEST TO THE TABLE AT PEPPER'S.
STAY IN THE KNOW
Be the first to know about restaurant happenings and other delicious news.